Description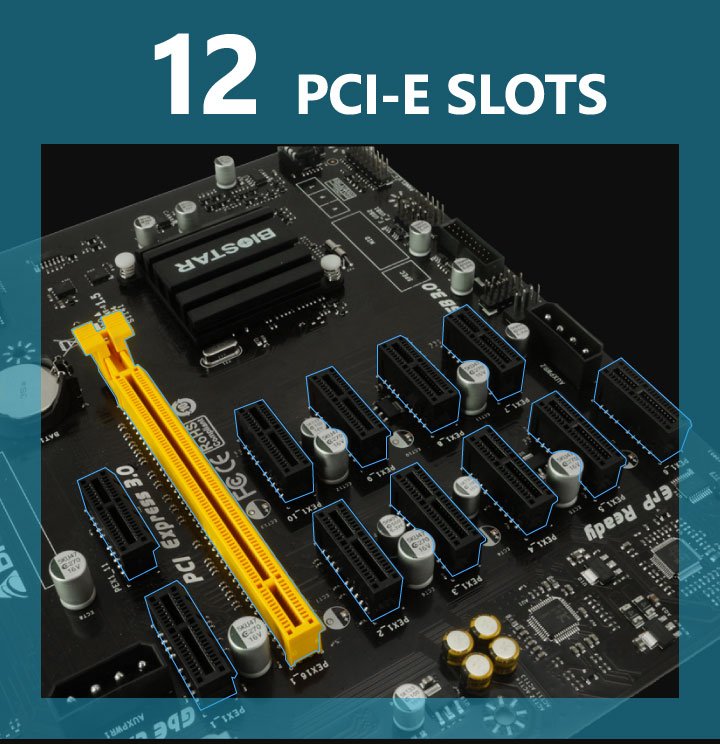 The world's No.1 ultimate crypto mining motherboard, TB250-BTC PRO supporting up to 12 native PCI-e slots with 12 graphics cards, is officially out NOW and available on the worldwide market. Just mining NOW! BIOSTAR brings a whole new crypto mining revolution dawning for the mining market.
Native PCI-e for Best Compatibility
12 PCI-e slots of TB250-BTC PRO are thoroughly native PCI-e from the latest Intel B250 chipset. This feature is amazingly superior to some of the mining motherboards with PCI-e bridge solution to expand more slots for their so-called mining motherboards yet miners will get some incompatibility and low stability problems from that kind of mining mainboards. To top it off, BIOSTAR TB250-BTC PRO is equipped with the latest Intel B250 chipset yet others on the market are Intel H110 chipset.
BIOSTAR proudly brings such excellent mining user experience to mining enthusiasts. Why are native PCI-e slots so vital to GPU mining? Native PCI-e slots can make the GPUs operating with high stability, high compatibility, and high speed of PCI-e bandwidth. That's why we are so proud to be the first one to launch such kind of dedicated and powerful crypto mining motherboard TB250-BTC PRO onto the crypto mining market. We make a very robust mining base for every miner.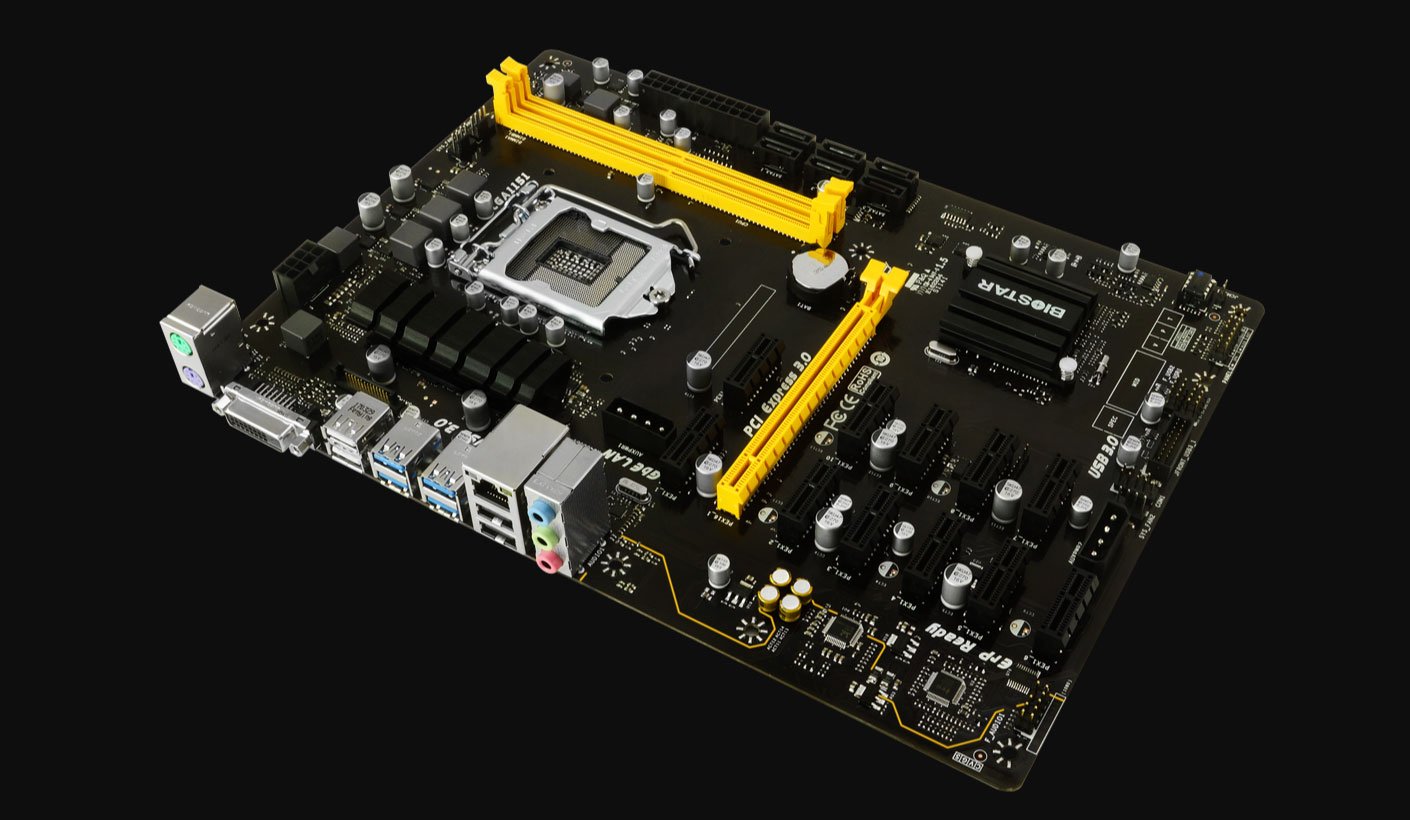 BIOSTAR TB250-BTC PRO
BIOSTAR TB250-BTC PRO uses Intel B250 chipset supporting native PCI-e up to 12 slots. Every slot has a dedicated channel itself that makes mining more smoothly.
Others
Other crypto mining motherboards use Intel H110 chipset only supporting 6 native PCI-e slots, and the other extra PCI-e slots are supported by PCI-e x1 extension chip, which makes the bandwidth limited and comes with much more mining performance problems just like low stability, low compatibility, low speed of bandwidth, and so on.

Hybrid Graphics Card Support
There is no more stock problem out there for those professional miners who are desperately looking for the hot-selling and high price performance crypto mining graphics card AMD RX 470. BIOSTAR TB250-BTC PRO compatibly supports the hybrid graphics card platform and now you can easily take the hybrid GPU setup, like 6 pieces of AMD RX 470 and 6 pieces of NVIDIA GTX 1060. Others are still waiting for the stock, yet you are mining to earn tons of money day and night. Time is all about money, money, and still money to an ultimate miner!
SPECIFICATION
Chipset
Intel B250
CPU SUPPORT
7th & 6th Gen Intel® Core™ i7 LGA 1151 Processor
7th & 6th Gen Intel® Core™ i5 LGA 1151 Processor
7th & 6th Gen Intel® Core™ i3 LGA 1151 Processor
7th & 6th Gen Intel® Pentium® LGA 1151 Processor
7th & 6th Gen Intel® Celeron® LGA 1151 Processor
Maximum CPU TDP (Thermal Design Power) : 95Watt
MEMORY
Support Dual Channel DDR4 2400/ 2133/ 1866 MHz
2 x DDR4 DIMM Memory Slot
Max. Supports up to 32GB Memory
* DDR4 2400 for 7th Generation Intel® Core™ Processor Family
INTEGRATED VIDEO
By CPU model
Supports DX12
Supports HDCP
STORAGE
6 x SATA III Connector
LAN
Realtek RTL8111H – 10/100/1000Mb/s Controller
Support Super LAN Surge Protection
AUDIO CODEC
Realtek ALC887 8-Channel HD Audio
Support HD Audio
USB
4 x USB 3.0 Port
1 x USB 3.0 Header
2 x USB 2.0 Port
2 x USB 2.0 Port(only 5V power, up to 1.5A)
2 x USB 2.0 Header
EXPANSION SLOT
1 x PCI-E 3.0 x16 Slot
11 x PCI-E 3.0 x1 Slot(Note: PEX1_6/7/8/9/10/11 slot are not compatible w/ ATX standard, users need extra coonecting kit to install VGA card for crypto mining.)
REAR I/O
1 x PS/2 Mouse
1 x PS/2 Keyboard
4 x USB 3.0 Port
2 x USB 2.0 Port
2 x USB 2.0 Port(only 5V power, up to 1.5A)
1 x DVI-D Connector, resolution up to 1920 x 1200 @60Hz
1 x LAN Port
3 x Audio Jacks
INTERNAL I/O
1 x USB 3.0 Header
2 x USB 2.0 Header
6 x SATA III Connector (6Gb/s)
1 x SATA Power Connector(for rear USB power enhancement)
1 x Front Audio Header
1 x Front Panel Header
1 x CPU Fan Connector
2 x System Fan Connector
2 x PCI-E 12V 4Pin Connector(Must be installed when using for bitcoin mining.)
1 x COM Port Header
H/W MONITORING
CPU / System Temperature Monitoring
CPU / System Fan Monitoring
Smart / Manual CPU Fan Control
System Voltage Monitoring
DIMENSION
ATX Form Factor Dimension: 29.5cm x 21cm ( W x L )
OS SUPPORT
Supports Windows 10(x64) for Intel 7th Generation Processor
※Support Windows 7 / 8.1(x64) / 10(x64) for Intel 6th Generation Processor
BUNDLE SOFTWARE
BullGuard
Smart Speed LAN(Windows 7/ 8.1 only)
Intel Rapid Storage Technology
ACCESSORIES
2 x SATA Cable
1 x I/O Shield
1 x DVD Driver
1 x User Manual
FEATURES
Supports 100% Solid capacitor
Supports Charger Booster
Supports BIOS Online Update
Caution!! The specification and pictures are subject to change without notice!
CPU SUPPORT
TB250-BTC PRO    PCB V6.3
Socket
Processor
Processor Model
sSpec/OPN#
Frequency
GPU Frequency
Core Name
Watts
1151
Intel Core i7 Processor
7700T
QKHE
2.90 GHz
1150 MHz
Kaby Lake
35W
1151
Intel Core i7 Processor
7700K
QKH8
4.20 GHz
1150 MHz
Kaby Lake
91W
1151
Intel Core i7 Processor
7700
QKHA
3.60 GHz
1150 MHz
Kaby Lake
65W
1151
Intel Core i7 Processor
6700T
QJEB
2.80 GHz
1100 MHz
Skylake
35W
1151
Intel Core i7 Processor
6700K
QJE6
4.00 GHz
1150 MHz
Skylake
95W
1151
Intel Core i7 Processor
6700
QJE9
3.40 GHz
1150 MHz
Skylake
65W
1151
Intel Core i5 Processor
7600T
QKHF
2.80 GHz
1100 MHz
Kaby Lake
35W
1151
Intel Core i5 Processor
7600K
QKH9
3.80 GHz
1150 MHz
Kaby Lake
91W
1151
Intel Core i5 Processor
7600
QKHB
3.50 GHz
1150 MHz
Kaby Lake
65W
1151
Intel Core i5 Processor
7500T
QKHG
2.70 GHz
1100 MHz
Kaby Lake
35W
1151
Intel Core i5 Processor
7500
QKHC
3.40 GHz
1100 MHz
Kaby Lake
65W
1151
Intel Core i5 Processor
7400T
QKHH
2.40 GHz
1100 MHz
Kaby Lake
35W
1151
Intel Core i5 Processor
7400
QKZQ
3.00 GHz
1000 MHz
Kaby Lake
65W
1151
Intel Core i5 Processor
6600T
QJEK
2.70 GHz
1100 MHz
Skylake
35W
1151
Intel Core i5 Processor
6600K
QJEC
3.50 GHz
1150 MHz
Skylake
95W
1151
Intel Core i5 Processor
6600
QJEE
3.30GHz
1150 MHz
Skylake
65W
1151
Intel Core i5 Processor
6500T
QJEJ
2.50 GHz
1100 MHz
Skylake
35W
1151
Intel Core i5 Processor
6500
QJEF
3.20 GHz
1050 MHz
Skylake
65W
1151
Intel Core i5 Processor
6400T
QJE7
2.20 GHz
950 MHz
Skylake
35W
1151
Intel Core i5 Processor
6400
QJEH
2.70 GHz
950 MHz
Skylake
65W
1151
Intel Core i3 Processor
7320
QL34
4.10 GHz
1150 MHz
Kaby Lake
51W
1151
Intel Core i3 Processor
7300T
QL3M
3.50 GHz
1100 MHz
Kaby Lake
35W
1151
Intel Core i3 Processor
7300
QL35
4.0 GHz
1150 MHz
Kaby Lake
51W
1151
Intel Core i3 Processor
7100T
QL3P
3.40 GHz
1100 MHz
Kaby Lake
35W
1151
Intel Core i3 Processor
7100
QL38
3.90 GHz
1100 MHz
Kaby Lake
51W
1151
Intel Core i3 Processor
6320
QJZ8
3.90 GHz
1150 MHz
Skylake
47W
1151
Intel Core i3 Processor
6300T
QJZC
3.30 GHz
950 MHz
Skylake
35W
1151
Intel Core i3 Processor
6300
QJZ9
3.80 GHz
1150 MHz
Skylake
47W
1151
Intel Core i3 Processor
6100T
QJZE
3.20 GHz
950 MHz
Skylake
35W
1151
Intel Core i3 Processor
6100
QJZG
3.70 GHz
1050 MHz
Skylake
47W
1151
Intel® Pentium® Processor
G4620
QL3A
3.70 GHz
1100 MHz
Kaby Lake
51W
1151
Intel® Pentium® Processor
G4600T
QL3R
3.0 GHz
1050 MHz
Kaby Lake
35W
1151
Intel® Pentium® Processor
G4600
QL3B
3.60 GHz
1100 MHz
Kaby Lake
51W
1151
Intel® Pentium® Processor
G4560T
QL3T
2.90GHz
1050 MHz
Kaby Lake
35W
1151
Intel® Pentium® Processor
G4560
QKZZ
3.50 GHz
1050 MHz
Kaby Lake
54W
1151
Intel® Pentium® Processor
G4520
QJZM
3.60 GHz
1050 MHz
Skylake
47W
1151
Intel® Pentium® Processor
G4500T
QK1A
3.0 GHz
950 MHz
Skylake
35W
1151
Intel® Pentium® Processor
G4500
QJZJ
3.50 GHz
1050 MHz
Skylake
47W
1151
Intel® Pentium® Processor
G4400T
QJZQ
2.90 GHz
950 MHz
Skylake
35W
1151
Intel® Pentium® Processor
G4400
QJP8
3.30 GHz
1000 MHz
Skylake
65W
1151
Intel® Pentium® Processor
G4400
QJZK
3.30 GHz
1000 MHz
Skylake
47W
1151
Intel® Celeron® Processor
G3950
QL3G
3.0 GHz
1050 MHz
Kaby Lake
51W
1151
Intel® Celeron® Processor
G3930T
QL3V
2.70 GHz
1000 MHz
Kaby Lake
35W
1151
Intel® Celeron® Processor
G3930
QL3H
2.90GHz
1050 MHz
Kaby Lake
51W
1151
Intel® Celeron® Processor
G3920
QJZW
2.90 GHz
950 MHz
Skylake
47W
1151
Intel® Celeron® Processor
G3900T
QJZS
2.60 GHz
950 MHz
Skylake
35W
1151
Intel® Celeron® Processor
G3900
QJZU
2.80 GHz
950 MHz
Skylake
47W